We're celebrating MCO's first blog-birthday with MCO's Birthday Bash are so glad that you could join us for this event! If you've missed the giveaways up until now, be sure to click on the photo below to enter to win some amazing prizes from Strollers to Cookware!
Click on the image below to be redirected to a list of open giveaways.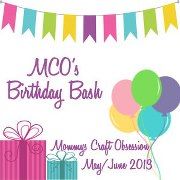 MCO's Birthday Bash is continuing our celebration with a must-have Britax B-Agile Stroller!
Photo Credits: Britax
Britax has been a leader in mobile safety for more than 70 years and is what I feel safe to say- a known household baby gear name. With a legacy of leadership in developing innovations that enhance safety and improve the ease of installation and use, Britax makes a commitment in improving that is unparalleled and is evidenced by the fact that their products undergo rigorous testing within five Britax testing facilities worldwide. They work closely with vehicle manufacturers to encourage design improvements and enhance the performance of their car seats. While Britax specializes in car seats, they also offer high quality strollers that incorporate safety, style, easy to clean fabrics, durability, and longevity in each one. Their strollers also can be used with Britax car seats (and other major car seat brands) to transform into travel systems for your convenience.
Hey guys! It's Alex from Mommys Craft Obsession and I'm here to tell you about one of my new favorite strollers, the Britax B-Agile! The B-Agile is available in four different colors; black, red, kiwi, and sandstone, and has many features that I consider to be extremely important in a stroller. Perhaps my favorite thing about the Britax B-Agile is that it is by far the easiest stroller to fold up and it is light weight and compact. I can easily fold the stroller with one hand and put it into the trunk of my accord with ease, all while holding my 19 month old on my hip. The best part is, the B-Agile hardly takes up half of my trunk space leaving me lots of room for groceries, shopping bags, or anything else that I need to transport! I was even able to have my B-Agile in my trunk while I had another stroller in there! Aside from those few features, what I really enjoy about the B-Agile is that it is an extremely smooth ride and has a beautiful turning radius. I love to window shop so going through aisles of stores and boutiques can be a challenge in most strollers, but with the B-Agile I am able to zip up and down aisles and around displays with no trouble at all! If you're looking for an amazing, light weight stroller that can also transform into a travel system, I highly recommend the B-Agile!
Some additional features of the Britax B-Agile:
-One-Hand, Quick Fold with automatic chassis lock
-Travel System Compatible with other major infant car seat brands
-Lightweight aluminum frame (16.5 lbs total weight)
-No re-thread, adjustable, five-point harness and head pad with reflective binding
-Infinite seat recline positions
-Large under seat storage and additional pocket with zipper
-Linked parking break locks both rear wheels
-CLICK & GO integrated adapter system works with Britax Chaperone and B-Safe infant car seats
-Three-wheel design provides improved steering and maneuverability
-All-Wheel Suspension provides a smooth ride
-Frame designed for stride clearance
-Large canopy with ventilation window
To Purchase: Visit Britax's website to browse their selection of strollers and cars seats, then check out their retailer locator to find out where you can pick yours up for $249!
To Win: Mommys Craft Obsession and Britax are giving away a Britax B-Agile to one lucky winner! Winner gets to put in their request for color choice as well! Enter the Rafflecopter below, all entries are optional with exception of your address and color choice, which is necessary for product shipment if you are the winner.
The Giveaway will close late on the evening of June 10th. The winner will be chosen at random through Rafflecopter which uses Random.org. The winner will be announced both on Rafflecopter as well as MCO's Facebook. The winner will have their prize sent to them by Britax, Mommys Craft Obsession and other participating bloggers are not responsible for prize shipment. Must be 18 years and older. Facebook, Twitter, Pinterest, and Google are in no way affiliated with this giveaway. No Purchase Necessary. US and Canada Only.
*Mommys Craft Obsession, IHeart-Motherhood and other participating bloggers have not received compensation (monetary nor product) to promote this giveaway.