We're celebrating MCO's first blog-birthday with MCO's Birthday Bash are so glad that you could join us for this event! If you've missed the giveaways up until now, be sure to click on the photo below to enter to win some amazing prizes from Strollers to Cookware!
Click on the image below to be redirected to a list of open giveaways.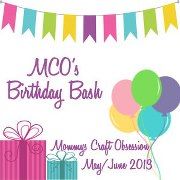 MCO's Birthday Bash is continuing our celebration with an amazing giveaway for a Kiddy City'n Move Stroller!
Photo Credits: Kiddy
Kiddy is a multi-award winning, family owned company based out of Germany, who just recently started their United States label, Kiddy USA. With over forty years of experience working in the automobile and juvenile product industry and being parents themselves, the owners of Kiddy prides themselves on the safety, health, and comfort of the child while they are utilizing their products. Kiddy designs their products to make car rides and outings more enjoyable for both mom and baby by offering various levels of adjustment and comfort that promote the healthy development of healthy backs!
Hey guys! It's Alex from Mommys Craft Obsession! I'm really excited to tell you about one of my favorite strollers, the Kiddy City'n Move! The City'n Move is offered in seven (7) gorgeous colors and has so many features that make this one of the best strollers I have had the opportunity of 'test driving'. The City'n Move stroller is also certified by the Aktion Gesunder Rucken Campaign for Healthy Backs, making this one of the best strollers for your child's back development! The City'n Move is light weight, easy to fold up, has literally the biggest sun canopy that I have EVER seen on a stroller (and not to mention it has UV80 protection!), and it pushes like a dream. If you're looking for a light weight umbrella style stroller, the Kiddy City'n Move is the stroller for you!
The City'n Move Features:
As From Kiddy USA's Website
Sporty lightweight

Aluminum chassis (only approx. 21 lbs).

Skin-friendly soft handles

For the perfect grip and to prevent sweaty hands.

Protective sun canopy

Best protection against UV rays with full extendable canopy with integrated window.

5-point harness system

Comfy padding incl. breathable 3D-netting and triple-height adjustable shoulder belts.

Comfy leg- and foot rest

Spacious basket

Comfortable ride

Spring suspension at front- and rear wheels.

Easily removable front wheels

Durable seat cover

Washable and with breathable netting.

Cozy recline position

Easy one hand operation with infinite positions to full recline.

Adaptors

Available for various infant carriers.



(Top, left to right) Phantom, Walnut,

Stone
(Bottom, left to right) Hawaii, Lavendar, Jaffa, Cranberry
To Purchase: Visit Kiddy's website to take a look at the stroller in closer detail, then visit Amazon and pick yours up for approximately $219! This is a must have stroller!
To Win: Mommys Craft Obsession and Kiddy are giving away one City'n Move Stroller in Winners Choice of Color! Enter the Rafflecopter below, all entries are optional with exception of your address and color choice, which is necessary for product shipment if you are the winner.
The Giveaway will close late on the evening of June 8th. The winner will be chosen at random through Rafflecopter which uses Random.org. The winner will be announced both on Rafflecopter as well as MCO's Facebook. The winner will have their prize sent to them by Boba, Mommys Craft Obsession and other participating bloggers are not responsible for prize shipment. Must be 18 years and older. Facebook, Twitter, Pinterest, and Google are in no way affiliated with this giveaway. No Purchase Necessary. US Only.
*Mommys Craft Obsession, IHeart-Motherhood and other participating bloggers have not received compensation (monetary nor product) to promote this giveaway.