We're celebrating MCO's first blog-birthday with MCO's Birthday Bash are so glad that you could join us for this event! If you've missed the giveaways up until now, be sure to click on the photo below to enter to win some amazing prizes from Strollers to Cookware!
Click on the image below to be redirected to a list of open giveaways.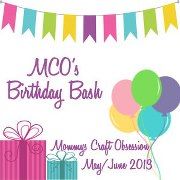 MCO's Birthday Bash is continuing our celebration with an amazing giveaway for an Old Fashioned Ice Cream Maker by Nostaglia Electrics!
Photo Credit: Nostalgia Electrics
Nostalgia Electrics is an innovative brand of small electric appliances available to consumers and retailers alike. Their mission is to add a level of excitement to your small appliances while providing fun, family-friendly products. All their products carry the GS and SSA electrical approvals so you know you can rely on them for safety. You can find their products in all major retail chains, home shopping networks and online stores.
Nostalgia Electrics Vintage Collection Old Fashioned Ice Cream Maker combines the fun experience of making homemade ice cream with modern convenience. The Ice Cream Maker is super simple to use, just place the aluminum canister filled with your ingredients into the center of the bucket, then fill the wood bucket with ice and let it's electric motor do the churning for you! Make 4 quarts of delicious ice cream per batch. The Ice Cream Maker even includes some tasty recipes in their manual that are easy to make! This Vintage Collection Old Fashioned Ice Cream Maker is perfect to bring out at parties or just to enjoy on a hot summer day! Plus lets be real, what's better than homemade ice cream?!
Photo Credits: Nostalgia Electrics
To see a full review of Nostalgia Electric's Old Fashioned Ice Cream Maker, use this link!
To Purchase: Visit Nostalgia Electrics to find a list of major retailers that are closest to you! The Old Fashioned Ice Cream Maker can also be purchased on Amazon!
To Win: Mommys Craft Obsession and Nostalgia Electrics are giving away one Old Fashioned Ice Cream Maker! Enter the Rafflecopter below, all entries are optional with exception of your address and color choice, which is necessary for product shipment if you are the winner.
The Giveaway will close late on the evening of June 11th. The winner will be chosen at random through Rafflecopter which uses Random.org. The winner will be announced both on Rafflecopter as well as MCO's Facebook. The winner will have their prize sent to them by Nostalgia Electrics. Mommys Craft Obsession and other participating bloggers are not responsible for prize shipment. Must be 18 years and older. Facebook, Twitter, Pinterest, and Google are in no way affiliated with this giveaway. No Purchase Necessary. US Only.
*Mommys Craft Obsession, including myself, IHeart-Motherhood and other participating bloggers have not received compensation (monetary nor product) to promote this giveaway.