We're celebrating MCO's first blog-birthday with MCO's Birthday Bash are so glad that you could join us for this event! If you've missed the giveaways up until now, be sure to click on the photo below to enter to win some amazing prizes from Strollers to Cookware!
Click on the image below to be redirected to a list of open giveaways.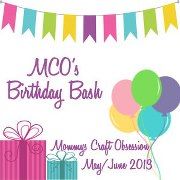 MCO's Birthday Bash is continuing their celebration with an amazing giveaway for an Adult Throw by Saranoni!
Photo Credits: Saranoni
Saranoni is a luxury blanket company started in 2006 with a passion for creating things people will love. They believe the first thing a child will see, hold and touch should be special so they created blankets in different sizes, textures, colors and patterns. The sizes of their blankets vary from the mini blanket (15x20) which is great for newborns to the adult throw (60x80) that can wrap around an entire family for a perfect for evening cuddling! With its warmth, Saranoni seeks to provide snuggle-worthy blankets for all. Saranoni also offers burp cloths, bibs, accessories, gifts and more!
Photo Credit: Mommy's Craft Obsession
Saranoni's extra large Swirl/Lush Adult Throw blanket is the ultimate luxury to wrap yourself in. It is pleasing to the senses with rich swirls on one side and a lavish, lush fabric on the other framed by a soft 2 inch border. Measuring 60x80, it provides 5 pounds of warmth and unparalleled comfort that makes it the perfect blanket for you and your family! Even better, it is machine washable. Lay flat to dry to maintain the soft, luxurious fabric.
Hey guys, it's Alex from Mommys Craft Obsession and I just want to tell you on a personal note, that this is hands down the most luxurious blanket that I have ever owned. I had heard of Saranoni for a long time and I never understood what all of the fuss was about. I mean, a blanket is a blanket, right? WRONG. This blanket is not just a blanket, it's a little slice of heaven and the softness and luxury is unlike any other. I am a slight blanket addict and this is now the only blanket that I'll use (aside from my bedding of course). Saranoni really did an amazing job at creating comfort with it's softness, it's weight, and its durability. This is a must have blanket!
To Purchase: Visit the Saranoni website and pick yours up for $120.00! There are so many color combinations to choose from that you will be wanting to match a blanket with every couch, chair, or bedding you own!
To Win: Mommys Craft Obsession and Saranoni are giving away your choice of Adult Throw! Choose from any of the Adult Throws in any color combination! Enter the Rafflecopter below, all entries are optional with exception of your address and color choice, which is necessary for product shipment if you are the winner.
The Giveaway will close late on the evening of June 13th. The winner will be chosen at random through Rafflecopter which uses Random.org. The winner will be announced both on Rafflecopter as well as MCO's Facebook. The winner will have their prize sent to them by Saranoni. Mommys Craft Obsession and other participating bloggers are not responsible for prize shipment. Must be 18 years and older. Facebook, Twitter, Pinterest, and Google are in no way affiliated with this giveaway. No Purchase Necessary. US Only.
*Mommys Craft Obsession, including myself, IHeart-Motherhood and other participating bloggers have not received compensation (monetary nor product) to promote this giveaway.