We've reached the final day of MCO's Birthday Bash and we are so glad that you could join us for this celebration! If you've missed the giveaways up until now, be sure to click on the photo below to enter to win some amazing prizes from Strollers to Cookware!
Click on the image below to be redirected to a list of open giveaways.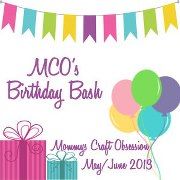 MCO's Birthday Bash is finishing up their celebration with an amazing giveaway for NextStepBabyMonitors!
Photo Credits: NextStepBabyMonitors
NextStepBabyMonitors is a family owned and operated company based out of Southern California and was founded in 2004. They realize that their customers have many shopping options, but what happens if you have a question or need extra help? NextStepBabyMonitors is always there for their customers with helpful assistance and specialized knowledge. From a step by step setup guide to friendly phone assistance, you are sure to have your baby monitor ready to use in no time.
Photo Credits: NextStepBabyMonitors
Although NextStepBabyMonitors distributes many types of baby monitors, they recommend their NextStepIP Pro over all of the rest, due to its high quality features and lifetime customer support. When purchasing a NextStepIP, you will receive a 90 day customer support backed by a 2 year warranty, as well as pan/tilt capability, secure direct connection to your wireless (not on a third party server), full audio, talk back capability, motion alert, and much more. Your NextStepIP can be viewed via your PC or Mac, or on almost any smart phone including iPhones, Androids, Windows Phones and Blackberries. Best of all, even when your babies have grown, you can continue to use the NextStepIP as a home surveillance system, pet monitor, or even a monitor for the elderly!
Photo Credits: NextStepBabyMonitors
To see a review of NextStepBabyMonitor's NextStepIP Pro (The NextStepIP's sister model), use this link!
To Purchase: Visit NextStepBabyMonitors website and pick yours up for $119.99! This is a household must have!
To Win: Mommys Craft Obsession and NextStepBabyMonitors are giving away one NextStepIP Video Monitor! Enter the Rafflecopter below, all entries are optional with exception of your address and color choice, which is necessary for product shipment if you are the winner.
The Giveaway will close late on the evening of June 17th. The winner will be chosen at random through Rafflecopter which uses Random.org. The winner will be announced both on Rafflecopter as well as MCO's Facebook. The winner will have their prize sent to them by NextStepBabyMonitors, Mommys Craft Obsession and other participating bloggers are not responsible for prize shipment. Must be 18 years and older. Facebook, Twitter, Pinterest, and Google are in no way affiliated with this giveaway. No Purchase Necessary. US Only.
*Mommys Craft Obsession, including myself, IHeart-Motherhood and other participating bloggers have not received compensation (monetary nor product) to promote this giveaway.